Hindi Diwas 2022: The whole country is celebrating Hindi Diwas today on 14th September. This shows the importance of Hindi language in India. In 1949, the Constituent Assembly of India adopted Hindi as the official language of India. The first Prime Minister of India, Pandit Jawaharlal Nehru decided to celebrate 14 September every year as Hindi Diwas.
Hindi Diwas is celebrated every year on 14 September to mark the popularity of Hindi as the official language of India. The language was adopted under Article 343 of the Indian Constitution. The first Hindi Day was celebrated on 14 September 1953.
Hindi is one of the major languages ​​used in India as a large part of the country's population knows and uses the language. Schools, colleges and other educational institutions celebrate Hindi Divas by organizing various events.
To wish and wish your family and friends on this special day, in a unique way on Hindi Diwas, you can also share them on your WhatsApp, Facebook and Instagram status.
1 Let us all give respect together
be proud of my language
hindu head bindi
become the soul of the people Hindi
Happy Hindi day.
2 Hindi is not just a language
Hindi is Hindustan
Give light to every heart
We do mind on Hindi.
Happy Hindi day.
3 One country should have one language, one simple identity
Have suffered a lot, decide now, this is the Hindustan of Hindi
Happy Hindi day.
4 Hindi has to move forward
lead the way to progress
not only one day we
Nit is to celebrate Hindi Diwas
Happy Hindi Day.
5. Hope for the whole country,
Hindi is its own language.
break the bond of caste,
Hindi connect the whole country.
Happy Hindi Day.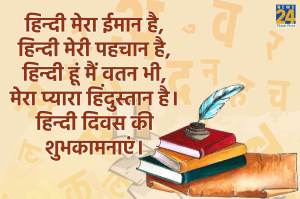 6. Hindi is my faith, Hindi is my identity, Hindi is my country too, my beloved Hindustan is.
Happy Hindi Day.
7. We are proud of Hindi
Pride is our Hindi,
Hindi we listen
Identity is our Hindi
Happy Hindi Day.
8. There is no shame in speaking Hindi
should be proud
all of you on hindi day
Best wishes to
9. On Hindi Diwas we have decided,
To awaken the self-respect of Hindi in the people,
We are all proud of Hindi,
India is the pride of the country Hindi
Happy Hindi day.
10. Our unity and integrity is the identity of our country,
We are Hindustan and Hindi is our language.
Happy Hindi day.