Jaivilas Palace: Union Home Minister Amit Shah is on a visit to Gwalior today. Here Vijaya Raje will perform the Bhoomipujan of the new terminal building of Scindia Airport and the expansion work of the airport, proposed at a cost of about 450 crores. After this program, Amit Shah will address a public meeting.
After addressing the public meeting, Amit Shah will visit the Jaivilas Palace, the palace of Union Minister Jyotiraditya Scindia. Amit Shah will be here for about 90 minutes. The beauty of the royal palace fascinates the people. Through pictures, show you how the royal palace of the Scindia royal family looks like from inside.
Jaivilas Palace, the royal palace of the Scindia royal family, is spread over 40 acres i.e. 1.2 million square feet. It was built in 1874 by the Maratha king Shrimant Jayaji Rao Scindia.
During that time one crore rupees were spent on the construction of this palace. Now its price is around Rs 4 thousand crores. There are 400 rooms in this royal palace.
Of the 400 rooms, 40 have been converted into museums. The Jivajirao Scindia Museum portion of the palace was opened to the general public in 1964.
Built in sandstone and painted in brilliant white, the three-storey palace was designed by renowned architect Lieutenant-Colonel Sir Michael Philos, also known as Mukhel Sahib.
The museum is full of huge valuables like the Silver Baggi, the royal carriage of the Scindia family, which was built in the late 19th century during the rule of Madho Rao Scindia. It is based on a wooden and metal frame and has 50 kg of silver on it.
The royal silver buggy is still used in important ceremonies such as Dussehra pujas and royal weddings making it an object of religious and auspicious significance.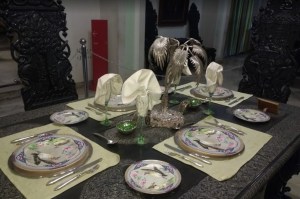 There are two big chandeliers in the museum of Jaivilas Mahal. It is said that the weight of these chandeliers is more than 3000 kg. It is said that 10 elephants were seen climbing on the ceiling after which these chandeliers were hung.
There is also a silver rail in the museum of Jaivilas Mahal, whose tracks are on the dining table. This silver train serves food when the special guest arrives.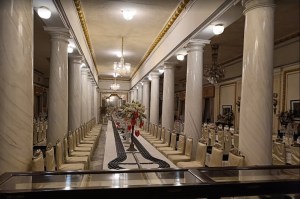 The ticket for visiting the royal palace for general public is Rs 150 per person while for foreign nationals the ticket cost is Rs 800.