Mathura News: A major accident took place on Thursday morning in Vrindavan, a religious city located in Mathura, Uttar Pradesh. A day before Devotthan Ekadashi, a massive fire broke out in a one-star hotel here.
However, two people have died in the accident. Let us tell you that lakhs of devotees are going to come to Vrindavan for parikrama on Friday, so the senses of the administration were also blown away. At the same time, some injured have been referred to Agra.
The hotel is on Mathura Road in Vrindavan
The accident took place at Hotel Vrindavan Garden located on Mathura Road in Vrindavan. On Friday, on the occasion of Devotthan Ekadashi, lakhs of devotees come here to circumambulate. Security and traffic related preparations are done on a large scale by the police and administration. Meanwhile, flames started rising from the first floor of the hotel at around 4:30 am on Thursday.
Uttar Pradesh | The medical team reached the spot after information about a fire in a hotel was received. One injured has been referred to Agra. Two people have died due to suffocation: Dr Bhudev, Control Room In-charge, CMO Office, Mathura pic.twitter.com/48JfmcGVap

— ANI UP/Uttarakhand (@ANINewsUP) November 3, 2022
There was a stir among the people staying in the hotel
When people who came out to visit the temples in the morning saw the fire, their senses were blown away. He informed the police including the hotel management about the matter. There was a stir among the passengers staying in the hotel on the information. The hotel was quickly evacuated. Four fire tenders reached the spot, who brought the fire under control after a struggle of about three hours.
Both the injured have been admitted to the hospital
Mathura Chief Fire Officer Pramod Sharma said that the information about the fire was received at around 4.30 pm. The fire broke out in the store room on the first floor of the hotel. Two people have died in this incident. Some people are also injured. He has been admitted to the hospital. The fire has been completely brought under control. The cause of the fire is being investigated.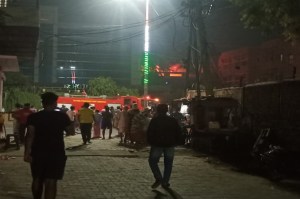 A big accident happened in Ayodhya too
Let us tell you that on Wednesday, 14 Kosi Parikrama started in Ayodhya, Uttar Pradesh. Then late in the night, suddenly there was a stampede among the devotees near the Hanuman cave located on the Parikrama Marg. Many people have been injured in the accident. They have been admitted to different hospitals. According to the information, one of these women was admitted to the Trauma Center in Lucknow in a critical condition.