Bangalore: Bengaluru's Kempegowda International Airport Terminal 2 is ready at a cost of about Rs 5000 crore. Prime Minister Narendra Modi will inaugurate it on November 11. The inner beauty of Terminal 2 will captivate you.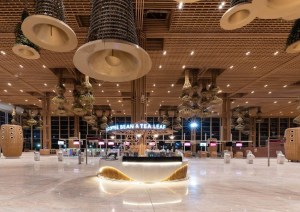 Prime Minister Narendra Modi will inaugurate Terminal 2 of the Kempegowda International Airport in Bengaluru on November 11, an official said on Wednesday.
Before the inauguration of Terminal-2 of Bangalore Airport, beautiful pictures of the airport have come to the fore. The beauty of this terminal is being made on sight. The entire terminal is illuminated with golden colours.
With the opening of T2, the passenger handling capacity as well as the counters for check-in and immigration will be doubled, which will be of great help to the people. Built at a cost of around Rs 5,000 crore, Terminal 2 will be able to handle around 5-6 crore passengers annually from the current capacity of 2.5 crore.
T2 has been decorated in the Garden City of Bangalore in such a way that you will feel that you have come to walk in the garden, not the airport. Travelers will travel through 10,000+ sqm of green walls, hanging gardens and outdoor gardens that have been created in India using indigenous technology.
For the design of the terminal, the American architecture firm Skidmore, Owings & Merrill (SOM) was chosen.