RSMSSB Forest Guard Exam 2022: Once again the dream of thousands of candidates has been broken in Rajasthan. After the REET exam in the state, the paper of the Forest Guard direct recruitment exam has been canceled. Due to paper leak in the examination held at a center in Rajsamand district, this exam of Forester exam has been canceled.
Let us tell you that today there was a direct examination of the Forest Guard across the state. The paper of the examination held in the second shift went viral on social media, after which the board has canceled this paper. The Rajasthan Staff Selection Commission has considered the paper as leaked on the basis of the case registered in Rajsamand. Now Rajasthan SOG is also investigating the paper cancellation case. Now this exam will be conducted afresh.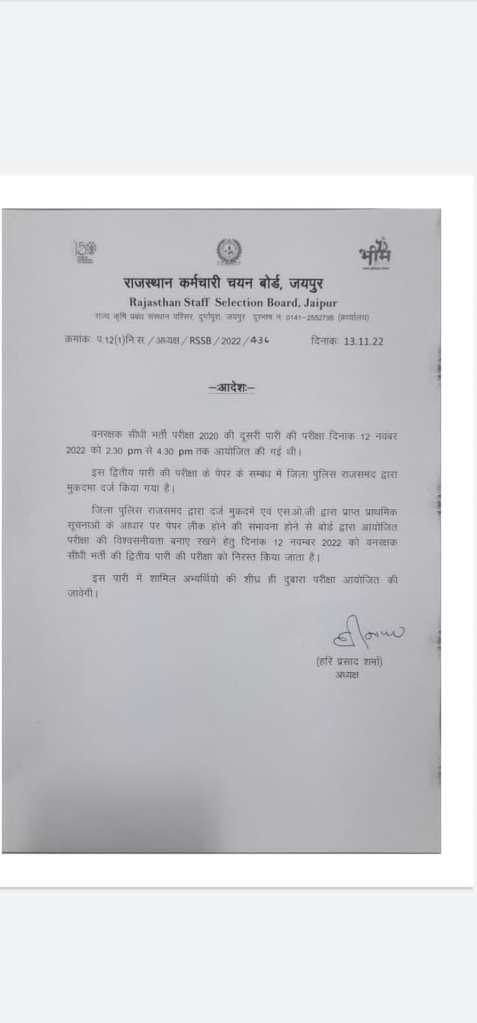 At the same time, on the information of SOG regarding this matter, under the direction of Rajsamand SP Sudhir Chaudhary, the DST team has detained some suspicious candidates who came to give the examination paper.
According to the information, in the Railmagra police station area of ​​Rajsamand, a youth has been detained by the Rajsamand police, taking action, due to the possibility of the North seat going viral by taking a photo of the paper. That's why the inquiry is going on. It is being told that on the basis of interrogation, some people have been detained in Karauli, Dausa, Jaipur and other districts of the state.