New Delhi: Bharti Jodo Yatra of Congress under the leadership of Rahul Gandhi is in limelight. This journey started from Kanyakumari on 7th September, 2022. It will be a 3,570 km long, 150-day 'non-stop' padyatra covering 12 states and two union territories across the country. Congress MP Rahul Gandhi's Bharat Jodo Yatra reached Madhya Pradesh from Maharashtra on Wednesday. The first stop of the yatra was Bodarli village in Burhanpur district. Many well-known personalities have been associated with the Bharat Jodo Yatra so far. Many different colors have been seen in this journey. Rahul Gandhi sometimes started a race and sometimes did Dandiya dance.
Bharat Jodo Yatra Different styles of Rahul Gandhi
Along with the foot march of the leaders involved in Congress' Bharat Jodo Yatra, their white colored clothes, sports shoes and Khadi bags have become the center of attraction here. BJP has been raising questions many times regarding Rahul Gandhi's clothes.
When Rahul Gandhi started the race…#BharatJodoYatra pic.twitter.com/iJtd3fOcYW

— Congress (@INCIndia) October 30, 2022
Rahul Gandhi started a race during the yatra. In the middle of the journey in Telangana, Rahul Gandhi did a race with the youth. Congress also put a video of this, in this video many youths were running behind them.
Rahul Gandhi takes great care of fitness. Gave a message to the Congress workers by running in Telangana and proved his fitness by doing pushups.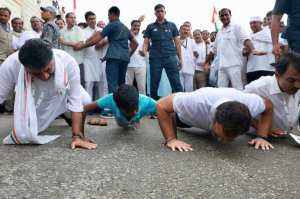 Thereafter, Rahul Gandhi and Jairam Ramesh joined a few people for a mass dance performance. He can be seen dancing with dandiya. This video of Rahul has surfaced a day after the tribal dance performance.
"Remember to celebrate milestones as you prepare for the road ahead."
– Nelson Mandela#BharatJodoYatra pic.twitter.com/ERQPUSHpV7

— Congress (@INCIndia) October 30, 2022
Many colors of Rahul Gandhi were seen in this Pad Yatra. At the very beginning of the journey where Rahul Gandhi buckled the shoe of a girl child in Kerala.
The area through which Rahul Gandhi is passing. Going to be painted in the same colour. Rahul Gandhi sometimes played cricket with children and sometimes tried his hand at football as well.
President Sonia Gandhi today participated in the Bharat Jodo Yatra of the party in Mandya, Karnataka. Rahul Gandhi tied the lace of mother Sonia's shoe in the middle of the road, which was highly appreciated.
tried his hand at cricket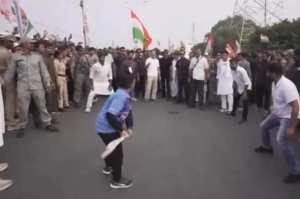 Film director Amol Palekar also appeared to support Rahul Gandhi in Bharat Jodo Yatra. During this his wife also joined him.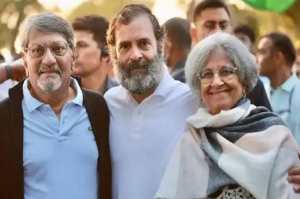 TV actress Rashmi Desai also joined the Bharat Jodo Yatra today to show her support to Rahul Gandhi.